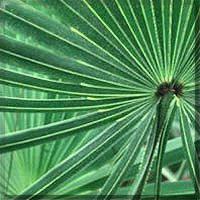 Serenoa serrulata
Origin: North American Atlantic coast
Part of the plant used: Berries
Description: Saw palmetto is a small palm tree with large leaves and large deep red-blackberries. The berries were used by Native Americans as general tonic to nourish the body and encourage appetite and normal weight gain. The berries were also used in the treatment of genitourinary tract problems including enuresis and nocturia. Recent clinical trials have shown that saw palmetto berries are helpful in the treatment of benign prostatic hyperplasia.
Pharmacology: Saw palmetto berries contain an oil with a variety of fatty acids and phytosterols. The fat soluble extract of saw palmetto berries has been shown to inhibit the conversion of testosterone (DHT) which is thought to be responsible for the enlargement of the prostate. In addition saw palmetto extract inhibits the binding of DHT to receptors thus blocking DHT's action and promoting the breakdown of the potent compound.
Active Properties: The North American Indians used saw palmetto berries as a remedy for atrophy of the testes, impotence, inflammation of the prostate, and low libido in men. The berries are also recommended for infertility, painful periods, and lactation in women. The berries also have a traditional use as a tonic and expectorant for mucus or membranes, particularly the bronchial passages.
Toxicity, Cautions & Contraindications No reported toxicity
Historical Uses:
Urinary tract disorders, nocturia, enuresis
Benign prostatic hypertrophy, prostate inflammation
Impotence, low libido
Atrophy of the testes
Infertility in women
Increase lactation
Painful periods, tonic for ovarian function
Expectorant, inhalant, bronchitis, asthma, colds
Tonic for mucus membranes
Mildly sedative to the nervous system
Anti-inflammatory
Appetite stimulant, improve digestion
Thyroid deficiency