Peruvian Bark (Cinchona spp)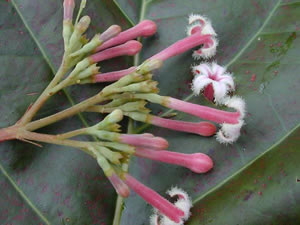 Common Names - Peruvian Bark , Red Bark. Jesuits' Powder. Cinchona Bark.

Botanical Name - Cinchona spp

Family - Rubiaceae (Madder Family)

Parts Used - bark!

Constituents - alkaloids, quinine, cinchonidine, cinchonine, quinidine, hydrocinchonidine, quinamine, homocinchonidine, hydroquinine, quinic and cincholannic acids, bitter amorphous glucoside, starch and calcium oxalate.

History - For three centuries quinine, was the only effective remedy known for malaria. It was known to the Jesuits very early in it's history, hence the common name Jesuit's powder. The name of the genus is due to Linnaeus, who named the tree in 1742 after a Countess of Chinchon, the wife of a viceroy of Peru, who, in 1638, was introduced by natives to the medicinal properties of the bark. In the 1860s, the Dutch government began cultivating cinchona trees on the island of Java in an attempt to monopolize the world production of quinine. Even though the trees are now cultivated worldwide, the bark is still sometimes referred to as "Peruvian" bark

Peruvian Bark Health Benefits - Jesuit's Powder, also called Peruvian Bark, or Cinchona, is the historical remedy for all forms of malaria. The powdered bark of this South American Andes tree is the source of quinine, which became famous for the treatment of malaria, fever and pain in the 17th century. Its main active principle, quinine, is now chemically synthesized. The term quinine comes from the Peruvian ghina, or quina-quina. Another compound in chinchona, quinidine, is now a standard anti-arrhythmic medication. Quinine is the source of the bitter taste in tonic water. The mixed drink gin and tonic originated in British colonial India when the British population would mix their medicinal quinine tonic with gin to make it more palatable.

Cinchona bark - for :
Cardiac arrhythmia - A key compound in Cinchona bark is quinidine, now a standard anti-arrhythmic medication. Quinidine is not the only helpful compound in the herb, however; there are more than a dozen. Since you get a few of these compounds when you drink tonic water, I'd drink plenty of tonic if I had arrhythmia.
Sore Throat - Febrifuge, tonic and astringent; valuable for influenza, neuralgia and debility. Large and too constant doses must be avoided, as they produce headache, giddiness and deafness. The liquid extract is useful as a cure for drunkenness. The powdered bark is often used in tooth-powders, owing to its astringency, but not much used internally (except as a bitter wine); it creates a sensation of warmth, but sometimes causes gastric intestinal irritation. Cinchona in decoction is a useful gargle and a good throat astringent.
Dosing and indication
As of 2006, quinine is no longer recommended by the WHO as first line treatment for malaria and should be used only when artemesinins are not available. Quinine is a basic amine and is therefore always presented as a salt. Various preparations that exist include the hydrochloride, dihydrochloride, sulfate, bisulfate and gluconate. This makes quinine dosing complicated since each of the salts has a different weight.
The following amounts of each form are equal:
quinine base 100 mg
quinine bisulfate 169 mg
quinine dihydrochloride 122 mg
quinine hydrochloride 111 mg
quinine sulfate (actually (quinine)2H2SO4·2H2O) 121 mg
quinine gluconate 160 mg.
All quinine salts may be given orally or intravenously (IV); quinine gluconate may also be given intramuscularly (IM) or rectally (PR). The main problem with the rectal route is that the dose can be expelled before it is completely absorbed; this can be corrected by giving a half dose again.
The IV dose of quinine is 8 mg/kg of quinine base every eight hours; the IM dose is 12.8 mg/kg of quinine base twice daily; the PR dose is 20 mg/kg of quinine base twice daily. Treatment should be given for seven days.
The preparations available in the UK are quinine sulfate (200 mg or 300 mg tablets) and quinine hydrochloride (300 mg/ml for injection). Quinine is not licensed for IM or PR use in the UK. The adult dose in the UK is 600 mg quinine dihydrochloride IV or 600 mg quinine sulfate orally every eight hours. For nocturnal leg cramps, the dosage is 200–300 mg at night.
In the United States, quinine sulfate is commercially available in 324-mg tablets under the brand name Qualaquin; the adult dose is two tablets every eight hours. There is no injectable preparation of quinine licensed in the U.S.: quinidine is used instead.
Peruvian Bark Side Effects:
Cinchonism - Quinine can, in therapeutic doses, cause cinchonism; in rare cases, it may even cause death (usually by pulmonary edema). The development of mild cinchonism is not a reason for stopping or interrupting quinine therapy and the patient should be reassured. Blood glucose levels and electrolyte concentrations must be monitored when quinine is given by injection. The patient should ideally be in cardiac monitoring when the first quinine injection is given (these precautions are often unavailable in developing countries where malaria is endemic). Cinchonism is much less common when quinine is given by mouth, but oral quinine is not well tolerated (quinine is exceedingly bitter and many patients will vomit after ingesting quinine tablets): Other drugs such as Fansidar (sulfadoxine (sulfonamide antibiotic) with pyrimethamine) or Malarone (proguanil with atovaquone) are often used when oral therapy is required. Quinine ethyl carbonate is tasteless and odourless, but is only commercially available in Japan. Blood glucose, electrolyte and cardiac monitoring are not necessary when quinine is given by mouth. Quinine can cause paralysis if accidentally injected into a nerve. It is extremely toxic in overdose, and the advice of a poisons specialist should be sought immediately! Quinine in some cases can lead to constipation, erectile dysfunction or diarrhea.
Abortifacient - Despite popular belief, quinine is not an effective (Abortion pill) (in the US, quinine is listed as Pregnancy category D). Pregnant women who take toxic doses of quinine will suffer from renal failure before experiencing any kind of quinine-induced abortion. Indeed, quinine is the only drug recommended by the WHO as firstline treatment for uncomplicated malaria in pregnancy.
Disease interactions - Quinine can cause hemolysis (bleeding) in G6PD deficiency (an inherited deficiency), but again this risk is small and the physician should not hesitate to use quinine in patients with G6PD deficiency when there is no alternative. Quinine can also cause drug-induced immune thrombocytopenic purpura (ITP). Symptoms can be severe enough to require hospitalisation and platelet transfusion, with several cases resulting in death. Quinine can cause abnormal heart rhythms and should be avoided if possible in patients with atrial fibrillation, conduction defects or heart block Quinine can worsen hemoglobinuria, myasthenia gravis and optic neuritis.
Hearing impairment - Some studies have related the use of quinine and hearing impairment, in particular high-frequency loss, but it has not been conclusively established whether such impairment is temporary or permanent.
Regulation by the United States Food and Drug Administration
From 1969 to 1992, the U.S. Food and Drug Administration (FDA) received 157 reports of health problems related to quinine use, including 23 which had resulted in death. In 1994, the FDA banned the use of over-the-counter (OTC) quinine as a treatment for nocturnal leg cramps. Pfizer Pharmaceuticals had been selling the brand name Legatrin for this purpose. Doctors may still prescribe quinine, but the FDA has ordered firms to stop marketing unapproved drug products containing quinine. The FDA is also cautioning consumers about off-label use of quinine to treat leg cramps. Quinine is approved for treatment of malaria, but is also commonly prescribed to treat leg cramps and similar conditions. Because malaria is life-threatening, the risks associated with quinine use are considered acceptable when used to treat that affliction.
Though Legatrin was banned by the FDA for the treatment of leg cramps, drug manufacturer URL Mutual has branded a quinine containing drug named "Qualaquin". Qualaquin is marketed as a treatment for malaria and is only sold in the United States by prescription. In 2004, the CDC reported only 1,347 confirmed cases of malaria in the United States.
Flowers: White, pink or red, in terminal panicles

Plant Class: Large Shrub, or small tree 5-15 meters tall

Leaves: Evergreen, lanceolate

Fruit: Small capsule containing many seeds

Preferred Habitat: Tropical

Bark: The bark is spongy, very slight odour, taste astringent and strongly bitter.

Distribution: India, South America

Regional Traditions :Central and South America *