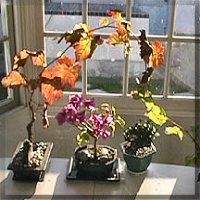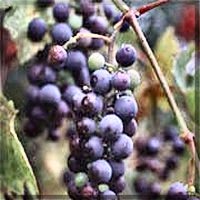 Vitis vinifera
Origin - Europe
Part of the plant used - Seed, Fruit; Leaves, Oil (sap)
Edible Parts It is hardy and is frost tender, in flower from May to July, and the seeds ripen from September to October. The flowers are hermaphrodite (has both male and female organs) and are pollinated by Insects. The plant prefers light (sandy), medium (loamy) and heavy (clay) soils and requires well-drained soil. The plant prefers acid, neutral and basic (alkaline) soils. It can grow in semi-shade (light woodland) or no shade. It requires dry or moist soil.
Edible Parts - Flowers; Fruit; Leaves.
Fruit - raw or dried for winter use. The dried fruits are the raisins, sultanas and currants of commerce, different varieties producing the different types of dried fruit. A fully ripened fresh fruit is sweet, juicy and delicious. The fruit juice can be concentrated and used as a sweetener. This fruit is widely used in making wine.
Leaves - cooked. Young leaves are wrapped around other foods and then baked, they impart a pleasant flavour. Young tendrils - raw or cooked. The flower clusters are used as a vegetable. An edible oil similar to sunflower oil is obtained from the seed. It needs to be refined before it can be eaten. A polyunsaturated oil, it is suitable for mayonnaise and cooking, especially frying.
Sap - raw. Used as a drink, it has a sweet taste. The sap can be harvested in spring and early summer, though it should not be taken in quantity or it will weaken the plant. The roasted seed is a coffee substitute. Cream of tartar, also known as potassium bitartrate, a crystalline salt, is extracted from the residue of pressed grapes, and from the sediment of wine barrels. It is used in making baking powder.
Pharmacology - Collagen, elastin and hyaluronic acid make up much of the inner wall and supporting matrix of the capillaries; when they are in good shape the capillaries stretch to let red blood cells through the tight places and do not let the fluids in the blood leak out. Proanthocyanidins have shown a marked tendency to accumulate in tissues with high contents of glycosaminoglycans (complex amino sugars), such as capillary walls and skin. This may also apply to cartilage and synovial fluid. Proanthocyanidins have also shown antimutagenic effects in vitro at high concentrations (250mcg/ml).
Proanthocyanidins (also known as leucoantho-cyanidins) are a form of polyphenol, which is in turn a form of bioflavonoid. Proanthocyanidins are at least 15 to 25 times more powerful than vitamin E in neutralizing the iron and oxygen species free radicals that attack lipids. Grape seed extract is used for fighting free radicals and maintaining capillary health. It is very similiar to pine bark extract, with a high content of proanthocyanidins (see active properties). Proanthocyanidins are found in many foods, but freezing, cooking and canning deactivate them.
Medical Uses - Grape seed extract is used for its free-radical-fighting capabilities, and for a variety of conditions related to capillary health and permeability. It is synergistic with vitamin C – which is more potent and absorbed more rapidly when used together with proanthocyanidins. Proanthocyanidins have been indicated for:
poor distribution of microcirculatory blood flow in the brain and heart
altered capillary fragility and permeability (in diabetes mellitus)
chronic arterial/venous insufficiency in the extremities
altered platelet aggregation and other characteristics of blood flow in capillaries
breakdown in the elastic fibers of the capillaries (collagen and elastin) due to free-radical and enzyme action
microangiopathy of the retina, edema of the lymph nodes, varicose veins and other symptoms of the problems listed above
the cumulative effects of aging and reducing the risk of degenerative diseases

Free radicals do damage in the capillaries in two ways:
by inactivating a compound called a 1-antitripsin, whose role is to restrain the enzymes that break down collagen, elastin and hyaluronic acid, and
by turning the fats in the cell membranes rancid (lipid peroxidation). Proanthocyanidins protect both the 1-antitripsin and the lipids by neutralizing the specific types of free radicals most likely to damage them, and may also directly inhibit the damaging enzymes.
Toxicity, Cautions & Contra-indications - Grapes also contain sugar and/or alcohol from fermentation or as part of the extraction process. Skin rash may develop due due to the procynidolic component of the grape seed Grape seed should be used only when clearly needed during pregnancy