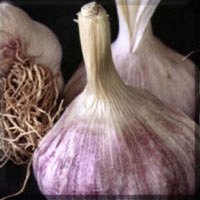 Allium sativa
Description - An Egyptian papyrus of around 1550 BC includes 22 therapeutic recipes that use garlic for complaints ranging from bites to heart problems and tumors. The Greeks, Romans and Vikings have all left evidence that garlic was prescribed for a variety of illnesses. Thousands of years use, coupled with modern scientific research, has shown garlic to be a herb with important health properties.
Pharmacology - Intact raw garlic cells contain alliin (an amino acid) and alliinase (an enzyme). When garlic is cut or crushed, alliin and alliinase immediately react together to produce the pungent substance allicin, which has strong antibacterial and antiprotozoal activity. It has been found to effectively inhibit many opportunistic micro-organisms, including some antibiotic-resistant strains.
Medicinal Uses - In a study by Singh et al. (1984) Garlic extract was shown to be a more potent inhibitor of 8 out of 9 strains of antibiotic-resistant Staphylococcus, Escherichia, Proteus, and Pseudomonas bacteria, than penicillin, ampicillin, doxycycline, streptomycin or cephalexin.
Therapeutic Uses -
Very many research papers have demonstrated the therapeutic benefits of garlic – normally at levels of around 1,000mg per day. Lower doses are to be used for maintenance of general good health, rather than tackling existing ailments.
Cholesterol Aged garlic can help to decrease total cholesterol while increasing HDL ("good") cholesterol.
Protection against free radicals and oxidation Raw garlic is actually an oxidant rather than an antioxidant. However, the cold-aging process reverses this and turns garlic into a strong antioxidant.
Anti-infection effects of garlic Garlic's sulphur compounds are antifungal and antibacterial, which makes it effective in numerous health problems like colds and influenza.
Garlic has been shown to boost the activity of the body's natural killer cells and many other aspects of the immune system.
The sulphur compounds in garlic protect against free radicals which are hazardous to health if unchecked.
Candida Garlic can increase the speed of clearance of Candida albicans cells from the body. (Candida albicans is a yeast organism that can over-grow in the digestive tract causing digestive upset, bloating, thrush, etc).
Respiratory problems Garlic is suitable for use in catarrhal, respiratory or bronchial conditions.
Interactions and Contra-indications - There are no known drug interactions or Contraindications for garlic.