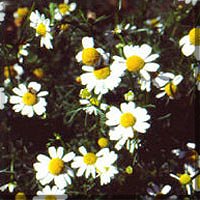 Matricaria recutita
Edible Parts Chamomile, also known as German chamomile, Matricaria recutita, is a member of the daisy family and is indigenous to Europe. Donít confuse it with Roman chamomile, Anthemis nobilis. Thatís an entirely different plant, with a different medicinal action Ė Anthemis nobilis could be called "the mother of the hair," as it is primarily used in shampoos and cosmetics.
Genus - Chamomile is just one member of the daisy family used in herbal medicine; others include elecampane, calendula, echinacea, aster, Jerusalem artichoke, milk thistle and blessed thistle. All produce oils that are thought to be responsible for the medicinal actions.
Pharmacology - Chamomile works to soothe irritated stomach tissue on two levels. One chemical contained in the plant is A-bisobol, which acts as an antiulcerative by speeding the mending of the torn tissues. A second chemical, chamazulene, acts as an anti-inflammatory. The problem with stomach linings is that they are filled with nerve endings, and when irritated stomach linings swell, it causes pressure on these nerves, which you experience as pain. Chamazulene has the ability to act as an anti-allergenic to shrink these tissues, relieving the pressure on the nerves.
Medical use - The essential oils in chamomile have proven to act as anti-inflammatory, antispasmodic, antimicrobial and antiulceratives. Like other medicinal plants, it contains a complex series of chemicals that work individually and collectively on the body.
Dosage for chronic stomach problems - take one cup of tea just before eating your meals, which, by the way, should be three a day, and one cup before going to bed. In this case, you are talking about a lot of chamomile, and you may have to buy some to supplement that which you grow in your garden.
Therapeutic Uses:
Nausea caused by bacteria in the digestive tract, its antimicrobial action is remarkably strong due to azulene, which can kill both staphylococcus and streptococcus infections. A weakened GIT is less likely to be able to fight off bacteria than a health one, and people with digestive problems are much more susceptible to food poisoning and intestinal flus than other individuals.
A delicate stomach caused by delicate small blood vessels lined in the entire digestive tract, and one ingredient contained in chamomile, quercimeritin, has the ability to reduce their fragility.
Chamomile also contains tannins, which have been used in tanning leathers (hence the name) for centuries. Tannins do essentially the same thing to your stomach that they do to the backside of a cow: toughen up the skin. They do this by precipitating the proteins, or, in simpler terms, pulling the cells tighter together. The flavonoid quercimertin and the tannins work together to toughen up what might be an overly sensitive gastrointestinal tract (GIT).
The mildly sedating effects of chamomile will settle the nerves, thereby settling the stomach.and the overproduction of stomach acids which leads to acid indigestion and tensing which leads to cramps.
Chamomile contains bitter elements that stimulate the production of stomach juices needed to break down food particles. People who do not produce enough bile lack the chemicals needed to digest their food quickly. It sits in their stomachs too long, and the result, as any person missing a gall bladder will tell you, is a chronic stomachache.
Contra-indications - chamomile has been found to induce allergies, as well as have an anti-allergenic effect. Both histamine release and inhibition of histamine discharge have been advanced as mechanisms for the potential antiallergenic action of the azulenes in chamomile oil. It has been theorized that since the azulenes themselves seem to prevent allergenic seizure, inhibition of histamine is probably involved in their true mechanism of action. Persons allergic to other members of the sunflower or aster family (Asteraceae or Compositae), are known to sometimes experience cross-reactivity to use of chamomile products. Those allergic to other aster family members, such as ragweed, should be aware of this potential side effect of using chamomile.