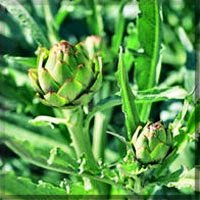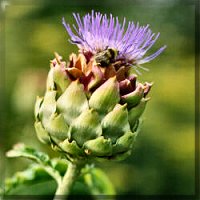 Cynara scolymus
Other Names - Alcachofa, Alcachofera, Artichaut, Globe Artichoke, Tyosen-Azami, Cynara scolymus
Part of the plant used - Flower heads, leaves, roots
Edible Parts - The flower head of the globe artichoke is used as a common food. The artichoke head, leaves and root contain several active components important for liver, kidney and gall bladder complaints. Traditional uses have included treatment of sluggish liver, poor digestion and atherosclerosis.
Pharmacology - The globe artichoke has become important as a medicinal herb in recent years following the discovery of cynarin. This bitter-tasting compound, which is found in the leaves, improves liver and gall bladder function, stimulates the secretion of digestive juices, especially bile, and lowers blood cholesterol levels.
Medicinal use - The leaves are anticholesterolemic, antirheumatic, cholagogue, digestive, diuretic, hypoglycaemic and lithontripic. They are used internally in the treatment of chronic liver and gall bladder diseases, jaundice, hepatitis, arteriosclerosis and the early stages of late-onset diabetes. The leaves are best harvested just before the plant flowers, and can be used fresh or dried.
Historical Uses:
sluggish liver, increase bile secretion
poor digestion
atherosclerosis
elevated tryglycerides, elevated cholesterol
diuretic, kidney diseases, proteinuria
The dried flowers are a rennet substitute, used for curdling plant milks.
Toxitity, Cautions & Cotraindications - No known toxicity